29 September 2022
Posted by:
Categories:

Cloud, Technology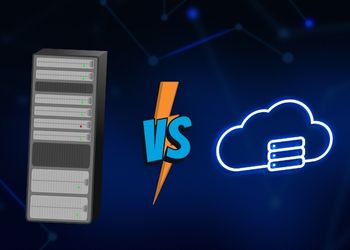 As technology advances, your old server is going to be getting slower to run. Data needs will have increased, and newer apps will be running slowly.
It's time to upgrade, but do you buy a new server, or do you take the opportunity to move to the cloud? We compare some of the key differences between the two options.
Infrastructure issues
With on-premises servers, companies will have to make large investments in the infrastructure and hardware required. The costs of running an internal IT department to manage this also adds to a company's burden. Infrastructure can also get complicated when multiple servers are being used together.
Moving to the cloud allows customers to pay on a subscription basis, whilst software and services are dealt with externally – freeing up your IT department and reducing costs. It also means that issues with having multiple servers do not occur – you can scale your capacity up and down as your needs require.
Cybersecurity and disaster recovery
With on-premises servers, all critical data is kept in-house and so can't be accessed by third parties. Also, more control is given over setting up their own security.
With cloud servers, however, this security is taken care of for you. Security options from cloud providers can include authentication rules, firewalls, encryption, automatic updates, scanning, monitoring and much more.
With cloud servers, backups can also be quickly and easily done from any device, ensuring that data losses can be minimised.
It is important, however, that you actively understand the security options that any potential cloud service provides, and that you choose the ones that most fit with your business.
Accessibility
One benefit of on-premises servers is that if you are in the same physical location as your server, you can access your data even when there is no internet connection. When working elsewhere, however, employees will still need to connect to your local network or to your server via VPN. This can make your connection slow.
Provided that you do have an internet connection, you can access a cloud server from anywhere at any time, whether working remotely or in any other location. You can even access your cloud server from a range of devices, including mobiles and tablets. This allows easier collaboration between employees, third parties and clients wherever they are.
Financial – Capex vs Opex
Capital Expenditure for on-premises hardware usually requires payment upfront and the equipment purchased is unscalable. It also has tax implications that are often less preferable than paying for your computing and data storage on an Opex basis.
Cloud services, however, are paid for on an operational expenditure basis, meaning that there is no big up-front outlay and the storage capacity paid for can usually scale up or down in line with your requirements. Great for a scaling business!
We're Here to Help
Moving to the cloud isn't just a lift and shift job – if you just put everything to the cloud, you'll take all your inefficiencies and issues with you. You need a cloud management service that will help you migrate to the cloud in an efficient manner, helping you answer questions such as: Do you go public (i.e. Google, AWS, Azure), private or hybrid cloud? What security options do you need to take out? What services and applications do you require?
In addition, when you have migrated to the cloud, improper ongoing management of your cloud services can get expensive – you need someone to help you manage that. As an IT support organisation, we are here to help. We can migrate your business to the cloud quickly and easily while ensuring business continuity.
We would be more than happy to have one of our team explain more about our cloud management services, and why we think that migrating to the cloud is the best choice for your company. We even offer a free 30-minute consultation, where we can top-level audit your IT challenges, and show you which direction you need to move in. Book a session here: https://cubittech.com/contact-us/
Cubit Technology – Impactful IT Support and Management for London's Creative Sector
Nestled in the vibrant heart of London's bustling Central district, Cubit Technology IT proudly extends its comprehensive support, management, and consultancy services to empower creative sector businesses within the realms of marketing, design, and more. Our mission is to catalyze the growth of these innovative enterprises through the transformative potential of technology.
From cutting-edge IT management that eradicates downtime to personalized consultancy services, delivered with a warm London welcome, we stand as steadfast allies in helping creative businesses harness the boundless power of technology to propel their success. Our approach is adaptable and multidisciplinary, ensuring that creative souls not only survive but thrive in the dynamic landscape of on-premise, hybrid, cloud, PC, and Mac environments in the vibrant city of London.
Reach out to us today, and let us show you how we can empower your London-based business to flourish with technology as its driving force.