Expert IT Support London
We are not just another IT support company in London – we passionately believe in proactive IT support and are always focused on making sure your technology is as reliable as possible with IT solutions that you can depend on.
What makes Cubit Technology your trusted London IT Support Partner?
With over 15 years of experience in the industry, we at Cubit Technology are here to address all your IT needs. Our London IT support company offers full IT support that will solve your existing issues, recommend further improvements to your systems, take care of your ongoing needs, and work with you to come up with IT strategies that will keep your business up to date with the latest relevant technologies – all without interfering with your operations. Our role is to enable you to maximise productivity and efficiency so you can work towards your own goals.
We don't just want to help you with specific tasks
We want to change your opinion about IT systems and services as a whole. We understand how frustrating it is to have unreliable services, and how it impacts business operations in the modern world. Our team of experienced IT experts is passionate about communication and customer service. We'll work with you to come up with unique solutions tailor made for your business, all with excellent response times.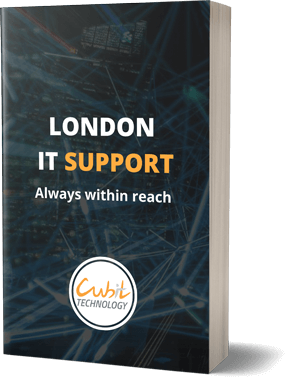 London IT Support - Always within reach!
We believe in proactive support and are focused on making IT as reliable as possible. Our strong enthusiasm for technology and what it can achieve for your business is backed up by our transparency and fairness.
Download our Ebook to learn more about our IT Support and Services.
Realising Your Potential with Full IT Support
Learn more about our IT Services London Businesses rely on.
If you're looking for an IT Support company in London, Cubit Technology may be the right Office IT Support company to keep your business running smoothly.
Call us at 020 3535 0680 or send us a message to find out how we can help.