15 July 2020
Posted by:
Category:

News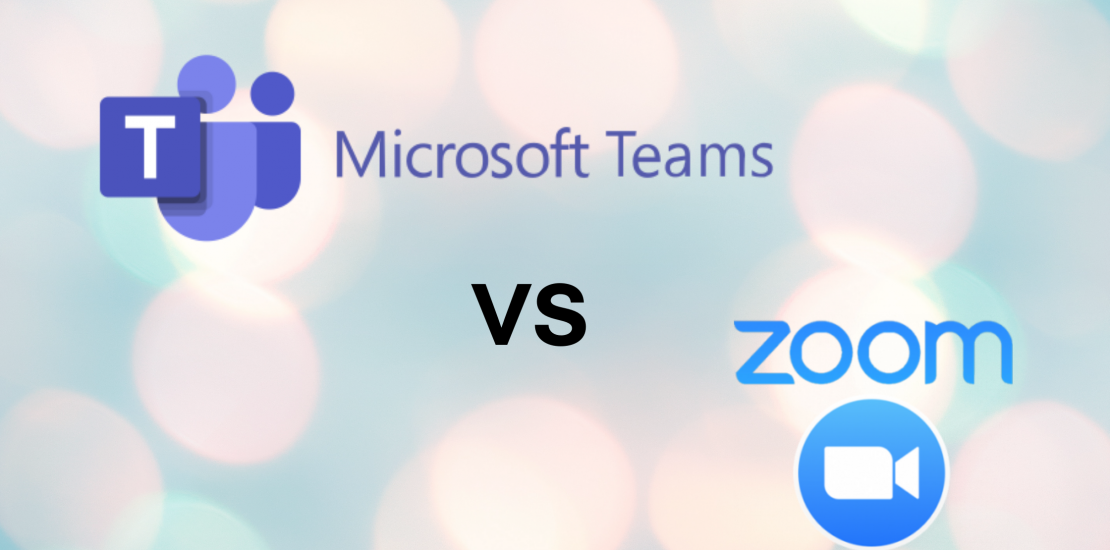 Microsoft Teams VS Zoom: Which Video Conferencing App is best?
Video conferencing applications have become invaluable to businesses during COVID-19. With a workforce almost entirely working remotely, apps such as Microsoft Teams and Zoom have become household names. Both are helping businesses to keep communication flowing and collaboration rolling through video and audio conferencing.Many businesses will already have been using Microsoft Teams as part of their Microsoft 365 platform (Office 365 for enterprise level users), but Zoom has come into the spotlight with an increase in popularity as people need to connect. But which one is right for your business? We compare both Zoom and Teams to give you an insight.
What is Zoom?
Zoom is a popular cloud-based video conferencing application where the basic version is free of charge for a 40 minute call. Popular with businesses and for personal calls, Zoom allows you to host meetings as well as collaborate via text chat and screen sharing. Known for its ease of use, you can join Zoom meetings on any device with HD video and audio. Attendees can join a Zoom meeting without signing into the app by simply clicking on a link, but you must sign up for an account to host a video conference. You can also view multiple camera feeds so you can see everyone on the call at once. Premium versions allow up to 1000 participants with call recording and unlimited phone calls.
What is Microsoft Teams?
Used primarily by businesses, Teams is a powerful part of Microsoft's collaboration and unified communications platform. Not only does it have extensive video capabilities but It brings individuals together into work groups. It has the ability to combine meetings, group chats, calls and file sharing within the Microsoft 365 app to bring everyone together in a shared workspace. It also allows users to collaborate within the Microsoft platform using Word, Excel, Powerpoint and Sharepoint apps along with third party services.
Functionality
When it comes to features, both Zoom and Teams offer video conferencing functionality along with chats, calls, screensharing, and file sharing. Yet both have features the other doesn't. Zoom's gallery view allows users to see everyone on the call, whereas Teams only shows the last four people to speak (although Microsoft have announced it will increase this to nine by May 2020). Zoom also provides features such as multiple screen sharing. Yet Microsoft's integration between Teams and Microsoft 365 makes it a full business solution. Its chat service allows users to communicate without even having to actually do a video conference whereas Zoom doesn't offer chat outside of a meeting. Zoom's simple interface seems to be preferred as its more intuitive with little training or support required. Whereas Microsoft Teams requires users to learn how to interact on Teams, incorporate file sharing as well as how to use all of the other Microsoft 365 applications which may be a bit overwhelming at first.As a bonus with Teams, you can add the ability to have audio conferencing with a public dial in number (so people without access to a device can just dial in). As well, Teams can be made into a full blown phone system so you can dial in and out with regular numbersOverall, Zoom may be easier to use, but once a user is familiar with Teams, it can benefit from the full Microsoft 365 features.
Security
Zoom has become a household name during the pandemic. Millions of users have turned to Zoom not only for business but for personal video conferencing as well. Last year, Zoom hosted 10 million users, but during the Coronavirus outbreak, that number has surged to 200 million. Yet the app has made the news lately with concerns over its security. From privacy violations including sending user data to Facebook and for misleading claims about the platform being end-to-end encrypted, Zoom has come under fire. Even a new term "Zoombombing" has arisen. As Zoom's default setting allowed anyone to join video calls if they had the meeting ID, led to many being able to 'guess' these IDs by using automated online tools and sharing them via chat rooms.There's been reports that uninvited participants have interrupted or derailed a meeting from harmless trolling to flashing pornographic images.As for Microsoft, they've built their business on having stringent security measures in place. Data is encrypted end-to-end and Teams  enforces multi factor authentication (MFA) to prevent cyber attacks.
Pricing
Microsoft Teams vs Zoom each offer a free version of the platform, with more advanced features offered with paid plans.The free version of Zoom offers video conferencing and group collaboration features for up to 100 participants within a 40-minute limit. As well, they offer unlimited 1:1 meetings and online support. But some users have complained about the video quality of the free version. The pro version will upgrade you to 1000 participants with better quality video.As Teams comes as part of Microsoft 365, not only can users access audio and video calling but the other apps such as Word, Excel, Outlook, PowerPoint, SharePoint etc. Therefore Microsoft Teams obviously gives the most value is you're looking for a one-stop solution.Microsoft's Premium plan is slightly cheaper per user than Zoom's comparable Pro plan, but for their enterprise plans, they're similarly priced.
Which Video Conferencing App is right for your business?
The final choice depends on your business needs. As Microsoft 365, is already used across many areas of an organisation, Teams is already part of the work stream collaboration. Whereas Zoom may be preferred for working with external vendors and clients or for more personal matters. But Zoom's recent security issues, may bring too much uncertainty for a business. Microsoft's robust security and its expansive functionality, is what makes Teams a better value.
If you'd like to find out more about video conferencing options and Microsoft Teams vs Zoom, get in touch at 020 3535 0680 or send us a message.