Managed IT Services
Providing IT Support Services and Managed Network Services
Managed IT Service Providers in London
Cubit Technology are one of the leading Managed IT Service Providers in London. Our Managed IT Services London include a wide range of IT Solutions such as IT Support, IT Strategy and Consultancy, Disaster Recovery and Backup planning, Cyber Security, Cloud Services and Hosted Telephony and Internet Connectivity. We also support Microsoft Office 365, Azure and Box.
What are IT Managed Services Companies?
Managed IT Service Providers (MSP) help to outsource your company's IT network support and management to make business operations more effective and productive. A MSP will assume responsibility for providing a defined set of services including unlimited IT support and proactive monitoring of IT workstations, devices and it infrastructure management. These services are managed on the basis of a monthly flat fee.
Benefits of Managed IT Services London include
Tech expertise
Being able to outsource knowledge and expertise while having experienced technical support available at your convenience for any IT problem or question.
Lower predictable costs
An MSP is essentially an in-house IT staff member but without the associated cost. For a monthly fee, businesses can get unlimited support and IT management while minimising the chance of expensive network disasters.
Faster response times
Employees receive quicker responses to IT problems as we're dedicated to resolving issues.
Maintenance and upgrades
Businesses receive the most up-to-date software upgrades as well as new technology recommendations.
Vendor management
We deal with software and hardware vendors so you don't have to
Compliance and Security
We manage risk for your business and make sure your data and network are secure.
See how our IT Services in London can help you grow faster and more efficiently
What are the benefits of Managed IT Support Services?
Many businesses find themselves juggling IT issues along with their day-to-day responsibilities. Outsourcing IT services to Managed IT Service Providers lets a company focus on running their business while leaving their IT to the professionals. This allows businesses that want to scale but don't have the resources available to digitally transform their operations while reducing their internal costs by outsourcing IT.
Cubit Technology can help you lighten the technological load by providing Managed IT Services for businesses in London. We'll handle your IT management and IT support, allowing you to get on with business.
What Cloud Services do we offer?
Cloud Services come in many different forms but can help your business be more cost efficient and productive. We can offer a variety of Cloud Services from Microsoft 365, hosting and backup to VoIP. We can migrate you and set up all your cloud services with ongoing help from our Managed IT Support London team.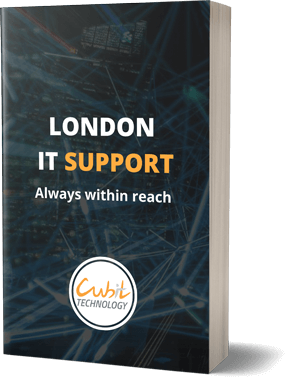 London IT Support - Always within reach!
We believe in proactive support and are focused on making IT as reliable as possible. Our strong enthusiasm for technology and what it can achieve for your business is backed up by our transparency and fairness.
Download our Ebook to learn more about our IT Support and Services.
What types of IT Security Services do we offer?
With increasing cyber security threats, it poses serious risk to small and medium sized enterprises. With new malware, ransomware and sophisticated cyber attacks emerging daily, IT security needs to be less reactive and more proactive. As well, with mandatory data protection regulations (GDPR) requiring compliance, IT security has become a core function for how businesses manage and store personal data as well as Intellectual Property.
Cubit Technology will audit and classify your IT infrastructure management before devising and implementing your IT security plan using technology, solutions, and processes to minimise exposure to risk. We'll also handle your day-to-day security with network monitoring, patch management, backup, and responses to any breaches. Our IT security services will ensure your business is always protected coupled with our Managed IT Support London businesses trust.
What Disaster Recovery & Backup Services do we offer?
Cubit Technology provide Backup and Disaster Recovery solutions for businesses. We work with businesses across London to develop their Disaster Recovery Plan as part of a Business Continuity strategy. This outlines a set of procedures and disaster recovery solutions to keep your business operating by restoring your systems back to how they were prior to the incident.
We also provide fully managed Online Cloud backup services of encrypted data and of your entire server to safeguard your business data while ensuring it can be restored in the event of a disaster or cyber attack.
Partnerships
Suppliers of Dell, HP, Cisco and more…
Questions about Managed IT Services in London?
If you're looking for IT Managed Services Companies, Cubit Technology can handle all of your managed IT Support needs as well as your Managed Network Services. Contact us to find out how we can help your business.