F-Secure
Holistic Cyber Security to cover all security needs
More Control, More Security
The amount and sophistication of cyber attacks is increasing. You simply need to have data or assets to make your organisation a target.
F-Secure covers all aspects of cyber security with their 30 years of expertise and award winning technologies. A combination of automated tools and accumulated data along with continuously improving technology, allows them to comprehensively predict, prevent, detect and respond to the latest threats.
A Complete Bundle For All Your Business Security Needs
F-Secure consistently provides the best protection levels on the market, is simple to use, updates automatically, and does not put too much pressure on system performance. It was designed to simplify the demanding security needs of modern organisations.
F-Secure's award- winning holistic portfolio of cyber security solutions will cover all of your organisation's cyber security needs.
Seamless Security
F-Secure's Business Suite brings best of breed security features together seamlessly, leaving no place for vulnerabilities. At its heart is Policy Manager, a scalable control centre that enables you to manage all security applications.
Control the whole IT environment with one versatile tool
Complete, uncompromised security to ensure safe business
Performance and scalability for companies of all sizes and different structures
Reliable security that lets you focus on your core business
Simple to use, update and purchase
Designed to have minimal impact on system performance
See how our F-Secure can provide the best protection for your organisation
F-Secure's Business Suite
F-Secure's Business Suite is an on-site solution that continuously offers the best protection for organisations of all sizes. It's centralised management gives you full control of the assets to improve security, while allowing your employees to work flexibly. Business Suite offers full visibility and transparency of the security status of your system at all times allows you to be sure that your organisation is secured against all threats at all times.
Proven best security for business endpoints
Less hassle with an all-in-one package
Less work through automation combined with easy control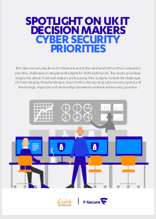 Spotlight on UK IT Decision Makers - Cyber Security Priorities
This guide provides an insight into where IT decision makers are focussing their budgets to meet the challenges of a fast changing threat landscape, how COVID is driving rising cyber security spend, and the strategic importance of relationships between businesses and security providers.
Download our Ebook to learn more about Cyber Security Priorities.